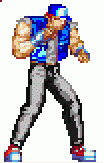 Welcome to the new ESF Investigations page!
This is a webpage for a roleplaying game. A roleplaying game is about shared storytelling. You get together with several friends and create a tale. In the case of the ESF, there's a bunch of Demons—evil and otherwise—rocking fight scenes, stern glances, a bunch of large incisors, staking, and good fashion sense involved, but that's not all. Unlike any other kind of game, your group's story can take you, the characters, and the multiverse anywhere you want it to. The action takes place in your imaginations, and the story is told through your interactions. There are truly no limits. The great thing about roleplaying games is that the direction of the story and the creative choices are all about you. Seriously, you rule! Use that power wisely, grasshopper.
The Earth Special Forces are an Elite Tactical Unit of the UGoI who run missions for government agencies such as the Rhy'Din Police Department. Formed during the guild wars of Anime Gaming, they have since fought many battles in order to test their skills and reach other goals, and in turn have become the official police force of A.G. City. Due to them just being a group of martial artists who group up from time to time, its operatives are trained in various methods ranging from investigations to cyberwarfare. Members will act of their own accord at times, though most if not all have some sort of sense of justice (or eventually developed one) and will make drastic decisions to defend their home. Throughout the years, the group consistently bolstered its ranks through the addition of former enemies and new heroes, and routinely overcame seemingly insurmountable opponents; always emerging victorious against progressively more powerful foes.
This page is not only dedicated to the knowledge of the UGoI-ESF and its people, but also to the general Rhy'Din storyline as a whole. It hopes to answer any questions you may have about the various groups that operate on the Rhy'Din island, past or present, as well as create a hospitable resource for those looking to add on to its legacy. Be sure to e-mail any comments about the site or any requests to join our Discord for role-play to Anime300@gmail.com!